Monthly Club Activities
MAFCA Certificate of Merit (Website) - 2017
​MAFCA Website of the Year - 2015 and 2013
MAFCA 35 Years Certificate - Model A Ford Club of America - 2018

MAFCA, 250 South Cypress Street, La Habra, CA 90631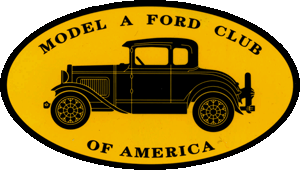 The Model A Ford Club of America, Inc (MAFCA) is a California non-profit corporation and a national historical society dedicated to the restoration and preservation of Model A Ford vehicles as manufactured from 1928 through 1931. MAFCA's members are dedicated to the restoration, preservation, and enjoyment of Ford vehicles of that era. Volcano A's members are urged to join the Model A Ford Club of America, Inc. Visit the MAFCA website for a membership application. Dues are $40 yearly and include a subscription to "The Restorer".
---
MAFFI Model A Ford Foundation, Nonantum, MA 02495

Over eighty years ago, Henry Ford created his legendary Model A Ford, now an icon of America representing the transition from flappers to breadlines as the epression rolled across the continent. You can help to preserve Henry's Lady, the Model A Ford and the dynamic era of 1927 through 1931 by joining the Model A Ford Foundation. MAFFI is dedicated to the preservation of historical information and memorabia of this time of change in America. Your membership donation is tax deductible under the Internal Revenue Service rule 501 (c) 3 and will help us with our many projects and worthwhile goals such as the Ford Parts Project and the building of research centers in many locations. Exciting new projects are on the horizon and you can be a part of them!
​We All Love Our Model A Fords

The Volcano A's Chapter meets on the 2nd Monday of each month at 7:00 pm at the Fourth Plain Church of the Nazarene, 16807 NE Fourth Plain Blvd, Vancouver, Washington. All members and guests are welcome.

Note: The "Model A Tools" and "Roster" web pages are secured, and require a password to access it. Club members can obtain a password by submitting an e-mail request to the

Webmaster.

---
Guys breakfast every Wed (7:00 am) at the Hockinson Cafe on 19 NW 20th Ave, Battle Ground, Washington
Join the guys on Fridays (11:30 am) at Benny's Pizza and Café on 4219 St. Johns Rd NE, Vancouver, Washington

This page last updated 4/24/2018